If it wasn't so tasty, it would be a weed. I've rarely met a gardener who grows zucchini who doesn't have an over-abundance to share. I love it with pasta, in sauces, stuffed and sauteed. I like it in the famous sweet bread, and even cookies. But by the end of zucchini season, when the crop is still growing like an invasive weed, I'm longing for something . . . different.

A New Zucchini Dessert?
My search for something new to do with our bumper zucchini crop on the America's Test Kitchen website led me to a zucchini crisp recipe that was so simple I had to try it. We even had all of the ingredients on hand, which made it perfect for a last minute treat on a Saturday afternoon. It was different enough that the boys weren't entirely sold on the idea, but they're always good sports about trying new recipes.
Posted from Cook's Country by permission
INGREDIENTS
7 medium zucchini, peeled, seeded, and chopped into 1/2-inch pieces (7 cups)
1/2 cup lemon juice
1 1/2 cups sugar
2 teaspoons cinnamon
1/2 teaspoon nutmeg
4 cups all-purpose flour
Salt
12 tablespoons (1 1/2 sticks) unsalted butter, chilled and cut into 1-inch pieces
INSTRUCTIONS
Preheat oven to 375 degrees. Coat a 13-by-9-inch baking dish with cooking spray.
Place zucchini and lemon juice in medium saucepan. Cook, covered, over medium-low heat, stirring occasionally, until tender, about 15 minutes. Stir in 3/4 cup sugar, 1 teaspoon cinnamon, and nutmeg. Simmer 1 minute longer and remove from heat.
Pulse flour, remaining 3/4 cup sugar, and 1/4 teaspoon salt in food processor. Pulse in butter until the mixture resembles coarse crumbs.
Stir 1/2 cup crumb mixture into zucchini mixture.
Press half of remaining crumb mixture into the prepared pan. Spread zucchini mixture evenly over crust.
Crumble remaining crumb mixture over zucchini and sprinkle with 1 teaspoon cinnamon.
Bake for about 35 minutes or until golden brown.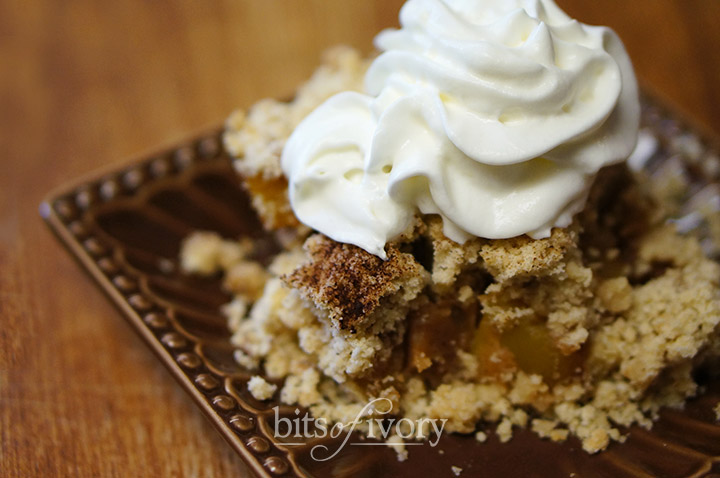 I served it warm with a bit of whipped cream on top, and our family reviews for this recipe were overwhelmingly positive. My daughter called it "shockingly good." The boys asked for more and even suggested sharing with a neighbour. One they like.
This isn't just a different way to serve your garden zucchini. It might be one of the most delicious ways to serve it!