It's time for true confessions.  I've kept it buried deep inside, but the truth is, I've never been a glitter girl.  Maybe not never, but definitely since I can remember.
I think sparkly things are pretty, like snowflakes and frosty windowpanes and beautiful mountain brooks shimmering in the sun, but when I'm creating I'm much more drawn to distressing inks and tea-stained papers.
Maybe it says something about me, but while I'm ready for a true confession, I'm not sure I'm ready for that level of soul searching.  I'm quite certain that it's my nostalgic tendencies and not some sinister affinity for dark things.  Mostly certain.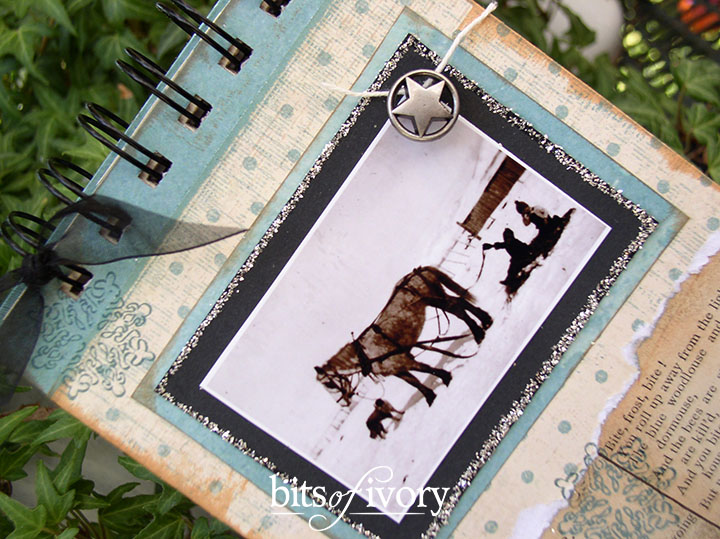 Lately I've heard some lovely things about German glass glitter, and I decided that I had to give it a try.  I purchased some of the pretty silver stuff from SugarPinkBoutique.etsy.com and just admired it in its little baggie for a few weeks before getting the nerve to try it.
It's so very pretty.  And sparkly.  And it makes this little Commonplace Book look so perfectly wintery!  I love it.
And perhaps best of all (for my dark side), the real silver in this ground glass glitter actually tarnishes to an aged perfection as time goes by.  It's the best of both worlds.
I'm back to holding it under my work light and admiring its spectacular sparkle in the baggie – but another project is formulating itself on the drawing board of my mind, and it won't be long before the beautiful stuff is sparkling prettily on another project.
I still reach automatically for my favorite distressing ink – it comes so naturally.  It looks so right.  I'm not really a glitter girl.
But these tiny shards of silvery glass have weedled their way into my heart and I simply can't resist.
********************

Ornament Albums
Speaking of tarnished silver, I love the way the clipper ship buttons look on these little ornament albums for Christmas!  They're made using the Maze Book instructions from Craft TV Weekly – but a bit smaller and with a few special touches.
They're small enough to hang easily from a tree, but also look great arranged in a dish, or at each place at a holiday table, or even as very special gift tags.   The inside pages can hold small little photos, little written family memories or best wishes, or even guests' signatures for a lovely little remembrance of a special holiday celebration.
On the back is a little tag with "I saw three ships come sailing in" from the traditional Christmas carol.  I love them so much that I'm keeping one for myself.  You may feel the same way.  Or you may decide that they're the perfect gift for a hostess or teacher.
You can certainly  make them yourself, but if you're not so inclined, or you're just enchanted with this particular design, you can find it in my Etsy shop while supplies last.
And in keeping with today's theme, here is another album ornament there. This ones has a bit more aging and distressing and just the tiniest hint of a sparkle.
Brown Paper Packages with Snowflakes.
It ties together with brown string and features hand-stamped snowflakes from my own original stamp design.  The little snippets of paper are from a vintage Danish book.
It's got quite a lot of ink on the edges.  Ah, ink distressing.  Did I mention that I love ink?  True confession.