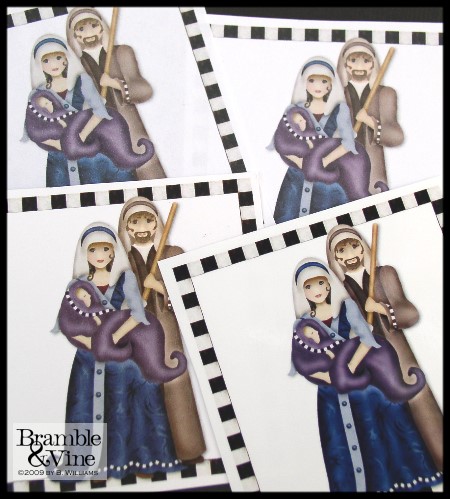 All artwork printed on different papers on the best photo quality setting.
All of the artwork available at Bits of Ivory is 300 ppi resolution for high print quality. This helps to preserve the textures and details in the artwork and results in a more professional looking product when you use them on projects either as gifts or on your professional crafts.
Many who are new to paper crafting, or only indulge occasionally are unaware of the importance of the type of paper you choose to print on.
1. Copier Paper: You can have a fantastic printer, but when you print on copier paper (even if it says it's appropriate for ink jet printers), you'll have a dull, flat image without much detail (see the top left graphic in the photo above). Of course, this paper has it's place. It's very inexpensive, and if you're simply using the artwork to illustrate a newsletter it may be perfectly appropriate.
2. Card Stock for Ink Jet Printers: Card stock for ink jet printers has the advantage of being thicker (so that you can't see through the page), and often is a bit brighter white to enhance colors. It can also be very inexpensive, but once again you will be sacrificing detail, depth and color in exchange (see the top right graphic in the photo above). This paper is appropriate for printing artwork that isn't very detailed, or for projects where the image quality doesn't have to be the absolute highest.
3. Matte Photo or Presentation Paper: This paper is a bit more expensive than cardstock, but maintains the heavier weight. The quality of the image printed is much better (see the bottom left graphic in the photo above). While the quality and detail are not quite as sharp as on the glossy photo paper, it is still very good. For projects that will be handled often it is actually preferable to the glossy photo paper because it won't show fingerprints when touched. It is also superior for distressing techniques, especially ink which can sometimes discolor photos printed on glossy paper.
4. Glossy Photo Paper: This is the most expensive option, but the details and color show the best on glossy photo paper (see the bottom right graphic in the photo above). For photographs and artwork with a very high level of detail, it's the best option (except on the types of projects noted in the previous section).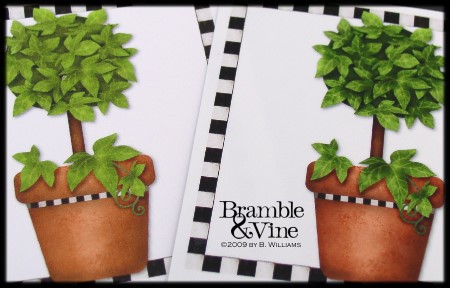 The left is printed on Matte Photo Paper, the right on Glossy Photo Paper.
Most printer companies suggest that you use only their brand of paper for best results. I pay less attention to the brand and more to what papers are economical and still give me excellent results. With a little bit of trial and error you can find exactly what works for you and your style of crafting and card making!