Recently I was thrilled to have the opportunity to review an advanced copy of the new Eat at Home Tonight Cookbook. Because of the Taco Tuesday truck on campus this summer, street tacos have become one of my favorite things. So when I saw this recipe for Tacos al Pastor I knew I had to try it right away.
It's been lovely to "meet" the author online, and I love her mission of making it easier for families to share a meal together around their own table every day. It's a beautiful thing. Because of that, with her permission, I'm excited to share this excellent excuse to stay at home for dinner tonight!
Tacos al Pastor
Eat at Home Tonight Cookbook | by Tiffany King
Serves 6-8
Ingredients
2 lbs pork loin or boneless roast
1 (7-ounce) can chipotle chiles in adobo sauce
1 onion, diced
1 garlic clove, crushed
1 (20-ounce) can pineapple tidbits in juice
1 teaspoon salt
1/4 teaspoon black pepper
12-16 corn tortillas
2 cups shredded lettuce
1/2 cup chopped fresh cilantro
Directions
Place the pork in a slow cooker.
Remove all of the chiles from the can of chipotles and set aside. Then spoon the sauce from the can into a medium bowl. Add the onion, garlic, pineapple tidbits with their juice, salt, and pepper.
Depending on how spicy you like your tacos, select one or two of the chiplotle chiles (if you want to keep this dish mild, don't add any). Slice the chile(s) lengthwise and scrape out the seeds. Dice the chile(s) and add to the bowl with the onion mixture. Stir to combine.
Pour the mixture into the slow cooker over the pork. Cover and cook on high for 5 to 6 hours or low for 7 to 8 hours then shred the cooked meat with two forks.
Serve the pork in corn tortillas, topped with lettuce and cilantro.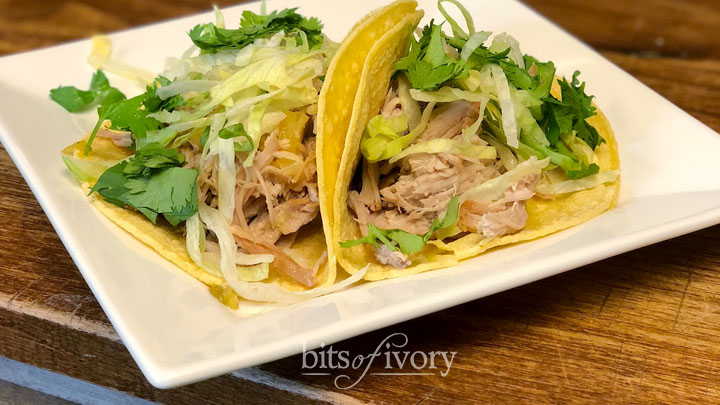 A Few Notes in the Margin
As you may be aware, I'm a rebel in the kitchen and usually end up not following the recipe exactly. This was no exception. For instance, I couldn't find the chiles in adobo sauce in our store so I used green chiles instead.
I also didn't have time to put this in the slow cooker before work, so I used my Instant Pot instead and cooked it for 60 minutes on the meat setting. The result was delicious and tender, so I'd definitely recommend it as an alternative if you're short on time!
The leftovers also made an amazing salad the next day served on a bed of romaine lettuce.
Eating at Home
There are so many studies showing the importance of eating together as a family, but sometimes that's easier said than done. Because they believe that's important, the Eat at Home website shares a lot of great resources for families that could use a bit of help making that happen.
This cookbook is designed to specifically meet family challenges, like needing to cook ahead, not having time to run to the store, and not having time to do dishes. Obviously, the last excuse is my favorite.
What keeps you from eating at home? I hope this easy but delicious recipe will give you the excuse you need to sit around the table together at least one night this week!