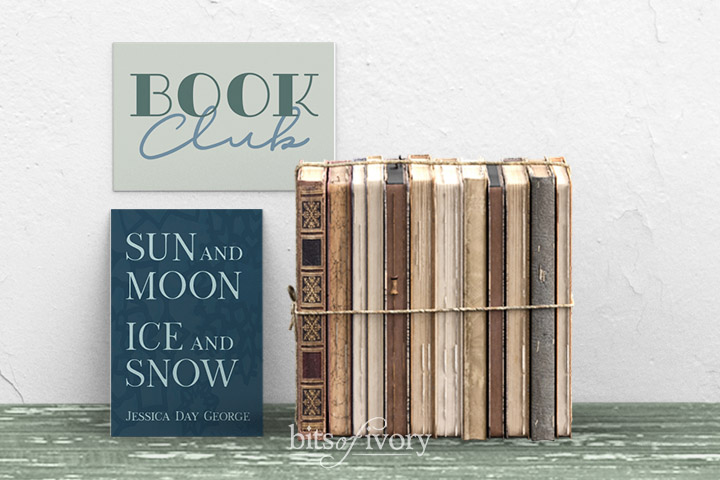 I'm a little bit enchanted with fairy tales, and especially love comparing different versions of my favorites. I ran across Sun and Moon, Ice and Snow by Jessica Day George when looking for something else entirely. And I fell in love.
Nothing is as it seems
The hero of this story doesn't save the princess. She's just a girl, so unimportant in her own family that her mother never even gives her a name. It's not a very promising beginning.
And yet despite growing up with freezing weather, hunger, and a mother colder than the frosty wind outside, kindness is her super power. And as a result of that kindness, she's blessed (or cursed) with the ability to communicate with animals.
It's little wonder that she jumps at the chance to escape when an unlikely visitor offers her a way out. The bear promises that her family will be cared for if she comes to live with him in his castle.
Soon the lass begins to unravel the mystery of the polar bear and his castle. When her curiosity puts others in danger, her own wits and courage are all that can set things right again.
The Power of an Ordinary Girl
Sun and Moon, Ice and Snow is based on a traditional Scandinavian tale called East of the Sun and West of the Moon. It has the lovely, earthy feel of closeness to nature, warmth of home and family.
I also love that the girl finds herself in really terrible situations. And she does everything she can to make the best of them. She's not a passive participant in her own story, but she also allows others to help.
This is a book of strong people. And especially strong women (both evil and good). Women of all ages who each do their little part to change the world. That's not just enchanting, it's magical.
Recommendation
If you love fairy tales and need a light, quick read to snuggle up with on a chilly winter afternoon, I think you'll love this story.
If you're looking for something empowering and uplifting, and clean enough for young readers, this is great book to explore together with your favorite middle-grade reader.