It's June, and I wanted to share a little DIY garden inspiration. Even if you don't have much room, herbs are something you can grow in a little space and use in your kitchen.
This year's herb garden was planted in an old office organizer that was just too large for my desk space. Lined with a bit of sphagnum moss, the baskets make perfect little homes for my kitchen herbs.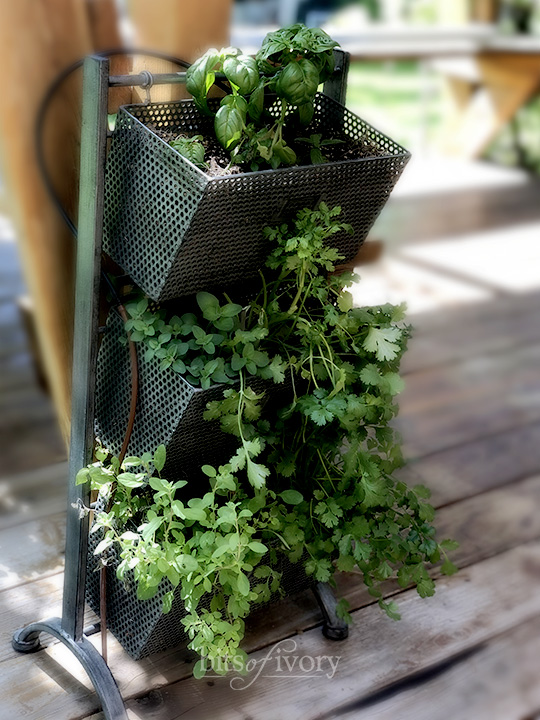 Growing things is good for your mental health. And tasty, fresh food is also good for your mental health.
A few years ago I posted about creating edible planters for your patio centerpiece. Introducing children to the joys of fresh flavors they've grown themselves is one of the ways to make sure they're open to trying new things.
CAUTION: Of course, not all flowers are edible! Double-check before eating anything you're unsure of. Make sure children know which plants they can taste. Also, be cautious of any allergies. I like to do that by having planters dedicated to edibles so children know they can take a few leaves from those safely, but need to leave everything else alone.
What I grow
Don't limit yourself to just herbs (though they're amazing and fantastic). Think about mixing in a few edible flowers as well! These are a few of my favorites:
Marigold petals
Nasturtium
Pansies
Chamomile
Lavender
And, of course, herbs have been both flavor and medicine for centuries. A few of my favorites to plant are:
Basil
Rosemary
Oregano
Thyme
Cilantro
Chives
Mint
Parsley
Wherever you live, and whatever clever containers you have to recycle, consider adding edible herbs and plants to your space because being surrounded by green and growing things is very good for human beings.
---
*For more information on the benefits of gardening, even on a very small scale, you might enjoy these articles: