FAVORITE THINGS – JANE AUSTEN GIVEAWAY – WINNER ANNOUNCED!

We decided since this was an old-school giveaway, we'd do an old-school drawing. Names were written on slips of paper that were placed in a basket, shaken well, then one name was drawn.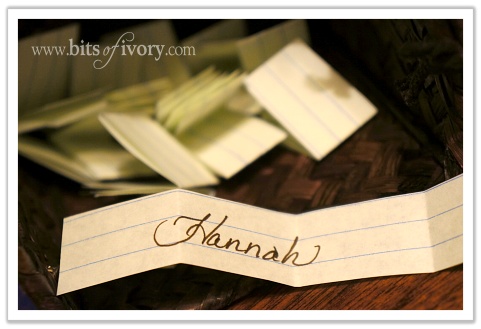 Congratulations Hannah! Please contact me by email to claim your prize!
I'm glad this was a drawing, because I would have loved to send this book to all of you! I loved reading your comments – it's always nice to remember how many kindred Janeites there are out there. In fact, this was so much fun that you should watch for another book giveaway very soon!
---
What's black and white and red all over?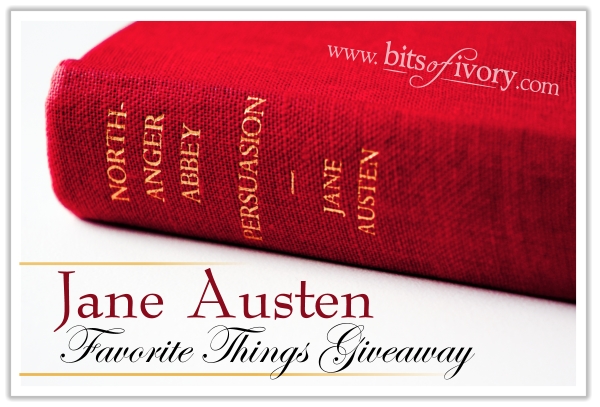 This beautiful book!
April is one of my very favorite times of year. In April I celebrate my birthday, my favorite holiday, and the return of cool breezes, blue skies and blossoms. I adore April.
To celebrate this year I wanted to do something really special. I decided to do a favorite things giveaway, and hoped to offer a gift certificate to my favorite online used book store, alibris.com. Unfortunately, they don't offer gift certificates. Fortunately, a quick search on their website and few clicks later I found the perfect alternative. . .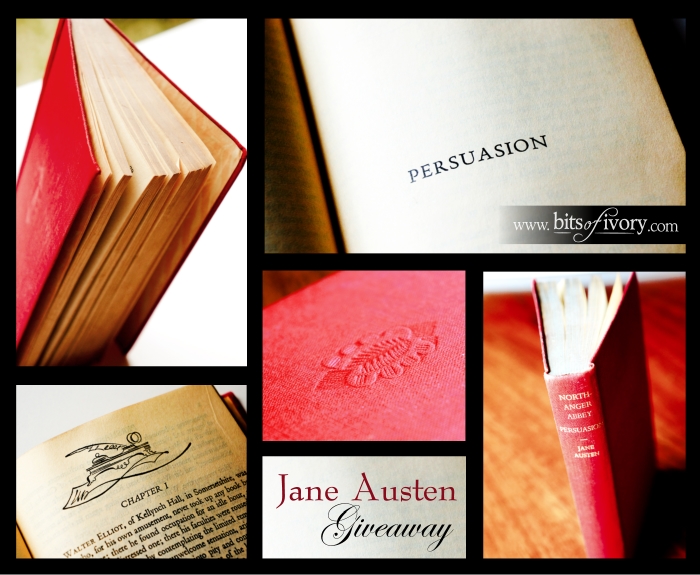 Oh so many favorite things to love in this little volume! My two very favorite Jane Austen novels are found in this pretty book; Northanger Abbey which I love for its humor, and Persuasion which is just excellent in every way. The book was "Made in Great Britain" in 1936 as part of the Everyman's Library Collection. It has a beautiful red cloth cover with gold lettering, and the embossed floral motif on the front is a lovely finishing touch. It's a book I'd love to add to my own library, and isn't that really the best sign that you've chosen a perfect gift?
ENTER OUR FAVORITE THINGS – JANE AUSTEN GIVEAWAY
<<CONTEST CLOSED>>

To enter, leave a comment below mentioning your favorite Jane Austen novel and whether you prefer to nibble dark or milk chocolate while reading. For an extra entry, subscribe to our blog using the "subscribe via email" form on the right hand side of this page and mention it in your comment (be sure to respond to the subscription email to verify). Comments will appear after they have been approved. The winner will be announced here on April 21st.

Thanks for helping us celebrate April!