Here are some colors and words that I hope will inspire you when you're feeling stuck in June.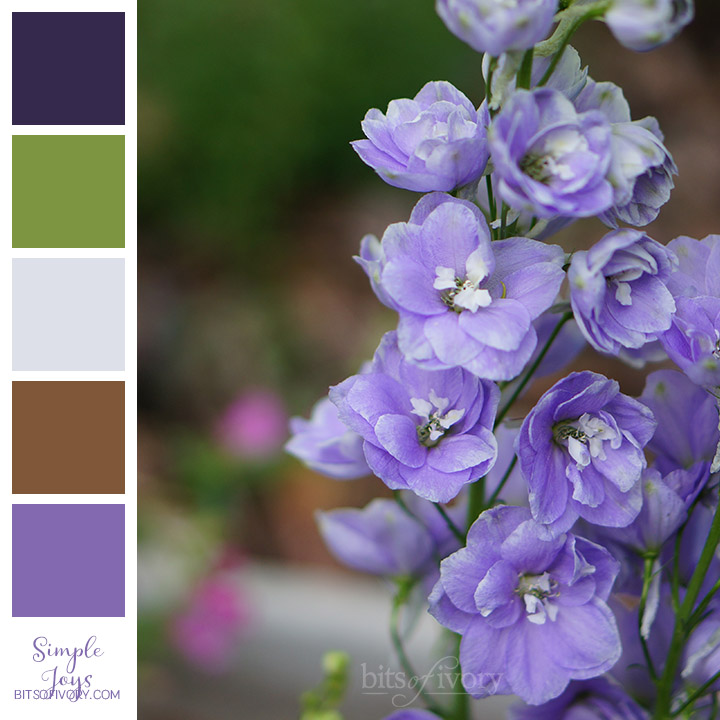 Something Lovely for Creative Inspiration: Simple Joys
May
Deep Purple: Hex CBC6D0
New Buds: Hex 7D9541
Cloudy Afternoon: Hex DDE0E9
Warm Earth: Hex 805739
Delphinium: Hex FEFEFD
June-Inspired Writing or Drawing Prompts
Whether you're writing a book, a journal, or a social media post, here are a few words and prompts to get the ideas flowing! Looking for drawing or lettering prompts? Explore these prompts for ideas when you're feeling stuck!
Love
Serve
Listen
Learn
Reach out
Garden
Rain
Light
Sunshine
Warmth
Friends
Unity
Patience
Compassion
Healing
Family
Hearts
Lifting
Support
Empathy
Gifts
Voices
Quiet
Solitude
Joyful
Sacred
Hope
Communication
Language
Letters
---
I'll be drawing from these prompts and using the May palette in some projects this month, so follow along on my @happythoughtindeed channel to see them in action.
And don't forget to tag me in your social media posts if you use these colors or prompts for creative inspiration in your own projects! @bitsofivory