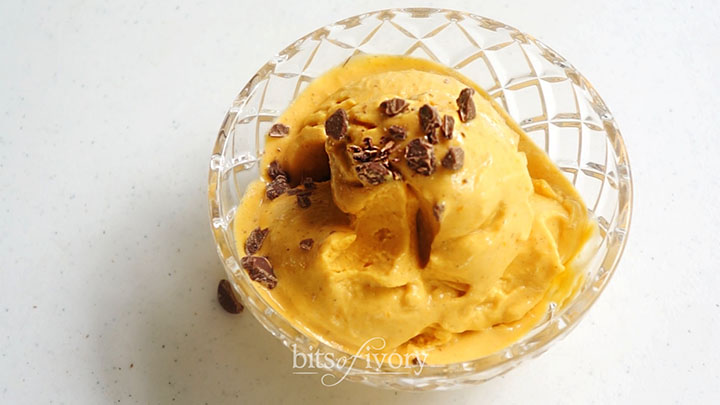 I love anything pumpkin spice, but I also love it when sweet treats manage to be a little bit healthy too.
Our family loves gelato in the summer time, and I wanted to create a delicious alternative that I could enjoy while still meeting my healthy eating goals.
The resulting pumpkin spice frozen yogurt recipe is low calorie, non-fat, lower in sugar than many deserts, and provides some fiber and protein in one delicious summer dessert!
---
Homemade Pumpkin Spice Frozen Yogurt
Makes 6 servings | 100 calories per serving
Ingredients
2 cups vanilla non-fat Greek yogurt
1 cup pureed pumpkin (I used canned)
1/4 cup pure maple syrup
2 tsp pumpkin pie spice
Directions
Whisk together all of the ingredients, then freeze in any ice cream maker, following the manufacturer's instructions.
Serve immediately or store in the refrigerator.
I sprinkled it with a tiny bit of chocolate, but that's totally optional. It would also be delicious with a little dollop of light whipped cream.
It's actually that simple.
This recipe makes six approximately 1/2 cup servings which a recipe calculator estimates at 100 calories, 17 grams of carbs, 0 fat, 6 grams of protein, and 1 gram of fiber.
---
Eat Your Veggies for Dessert
If you love pumpkin spice, and you love healthy alternatives to summer treats, give this a try! With only a few ingredients, the pumpkin flavor really shines through. You can adjust the syrup and spices if you like things a bit sweeter.
If it's a vegetable, dessert first becomes totally legitimate, right?