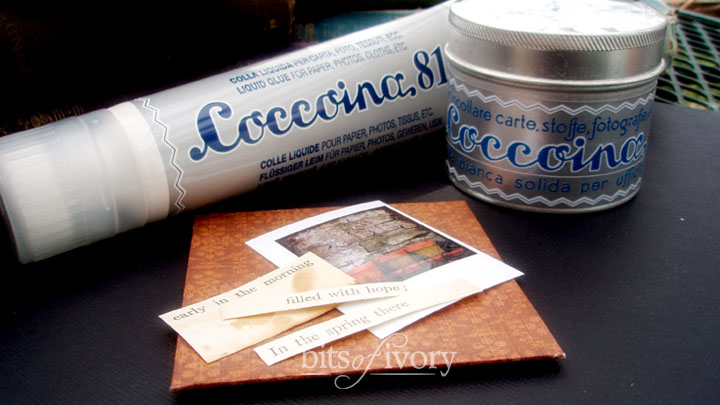 Finding a perfect adhesive for projects can be a challenge. I hate glues that promise not to wrinkle my papers, and then wrinkle and warp anyway. It's annoying. It's beyond annoying, and it happens quite a lot.
Favorite Things Friday
I was recently introduced to Coccoina paste and liquid adhesive. I'll admit that I didn't get my hopes up. After all, the glue is almond scented and the paste is reputed to taste like marzipan. School children in Italy have been using it (and presumably tasting it) forever.
It doesn't sound like the kind of tool that serious artists and artisans would use on their very serious, grown-up art projects.
I'm not afraid to admit when I am mistaken.
I was mistaken.
These adhesives are one of my new very favorite things. The liquid glue with it's sponge applicator tip spreads the glue so evenly and gently on delicate papers – and I'm not kidding, no wrinkling and warping at all. It's non-toxic, and so far it's proven to be a very strong and effective adhesive.
I love this stuff. How heavenly to trade the chemical or pasty odor of other glues for that of sweet almonds! And while I haven't tried it myself, my boys assure me that the paste does actually taste quite nice.
Coccoina is imported from Italy, and if it's not carried in your local stores you can find it online. I purchased mine from Little Pink Studio at Etsy and it arrived beautifully packaged. How nice to find a present to me in my mailbox (even if I did buy it for myself).