Whatever kind of project you have in mind, I've got creative inspiration for you, including a love-inspired color palette and writing/drawing prompts. Whether you're writing, painting, posting, or snapping photos, here's a little creative inspiration for your February projects.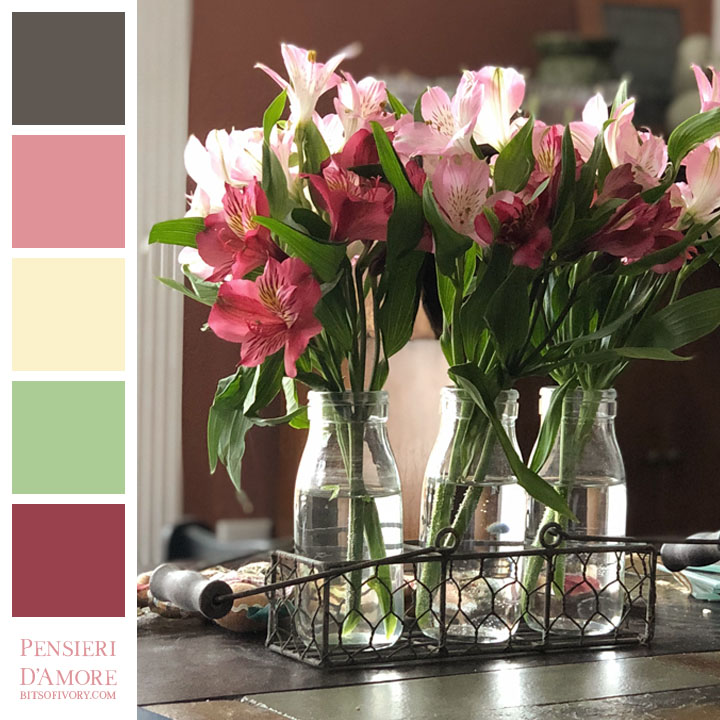 Colors for February's Creative Inspiration: Pensieri D'Amore
February's colors are inspired by thoughts of love. For me, the month is filled with celebrations of people dear to me – A grandmother, a granddaughter, my mother's anniversary, and, of course, Valentine's Day.
Warm Grey: Hex 5f5751
Petal Pink: Hex df9398
Almost Yellow: Hex fbf2cb
Soft Green: Hex accc95
I Heart Red: Hex 99414c
Love-Inspired Writing or Drawing Prompts
Whether you're writing a book, a journal, or a social media post, here are a few words and prompts to get the ideas flowing! Looking for drawing or lettering prompts? Explore these prompts for ideas when you're feeling stuck!
Love Letters
Friends
Flowers
Valentine
Love Songs
True Love
Thoughts
Heart
Warm Hands
Kisses
Chocolates
Hugs
Valentines
Fairy Tales
Affection
Cherish
Devotion
Harmony
Our Story
Family
Best friends
Strawberries
Dearest
Favorites
Pets
Post Card
Forget-me-nots
Castles
---
I'll be drawing from these prompts and using the February palette often in my projects this month, so follow along on my @happythoughtindeed channel to see them in action.
And don't forget to tag me in your social media posts if you use these colors or prompts in your own projects!