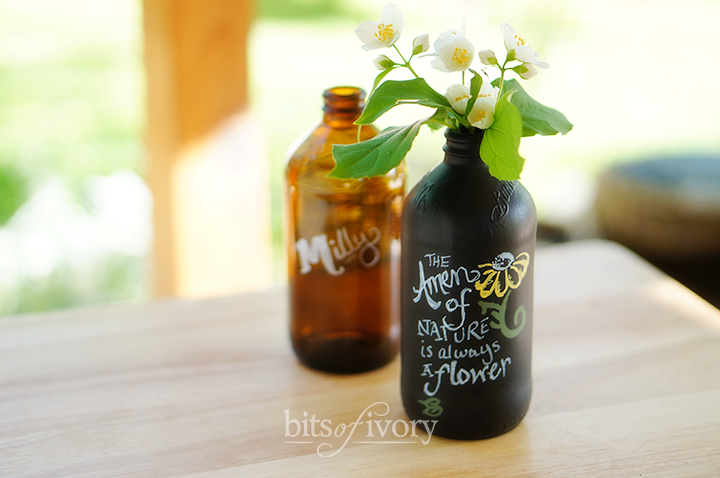 She called them her "fancies." Other children collect pebbles. Or seashells. Milly collected glass bottles of every shape and size. Now, after nearly a year and a half in the storage closet it's time to unpack them, dust them off, and figure out what place they have in a grown woman's room.
In the past 18th months she's been living as a missionary in Denmark. Her tastes have grown more sophisticated and classic. Some of her glass bottles are antique and beautiful. They will be easy to fit into the room we're preparing for her homecoming.
Even so, I think we can do so much better than a shelf simply packed with glass!
I've used my Versachalk chalk markers directly on glass before, and they really do look great. It's very modern and clean looking.
As you know, though, my style is a little bit more nostalgic. When I saw a little bottle of glass chalkboard paint on my last trip to the craft store I knew I had to give it a try. I adore the size and shape of these little Bundaberg soda bottles, and I was thrilled at the chance to keep them out of the recycle bin. Painted with the chalkboard paint, this simple little bottle became simply irresistible.
I just love the way the matte black color will contrast with the shiny glass in her collection!
With two quick coats of paint and a little bit of dry time between, this project was completely done in under an hour.
Seriously – just one step!
It's simple and impressive, just the way I like it. And these chalkboard vases are perfect for special occasions, too! A little quote by Oliver Wendell Holmes and a few blossoms from our garden give this sweet little vase the perfect finishing touch.
My little grown-up artist is going to love being able to use chalk markers to personalize her chalkboard vase for every season and occasion.
It's going to look perfect on her shelf, arranged tastefully with the prettiest of her "fancies!"
---