It is a truth universally acknowledged, that a woman in possession of every Jane Austen book must be in want of a scone.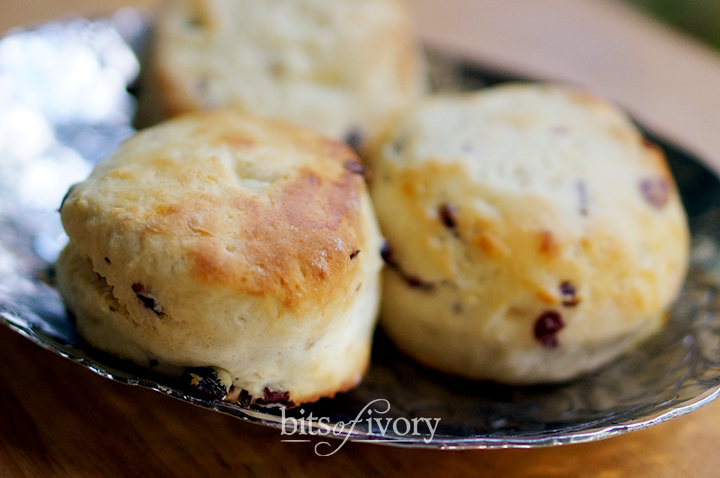 Milly is home from her mission, and it's time to get caught up on all of our British favorites. A little bit of Jane Austen. A few seasons of Downton Abby. Several hours of Sherlock. Perhaps an episode or two of The Doctor. But mostly Jane.
Gosh, I've missed my Milly! But more about that in a minute.
When I saw this recipe for British-style scones at America's Test Kitchen I knew we had to have them for our Jane Austen marathon. I've been planning it for months. Technically Jane and her delightful heroines would have savored cakes and other sweets with their tea, not scones.
I'm so glad I'm not a purist. The chorus of "mmmmms" from the family as they took their first bite still makes me smile. Mr. Woodhouse would be horrified, but I think Emma would definitely approve.
British-Style Currant Scones
Shared with permission of America's Test Kitchen
MAKES 12 SCONES
INGREDIENTS
3 cups (15 ounces) all-purpose flour
⅓ cup (2 ⅓ ounces) sugar
2 tablespoons baking powder
½ teaspoon salt
8 tablespoons unsalted butter, cut into ½-inch pieces and softened
¾ cup dried currants
1 cup whole milk
2 large eggs

INSTRUCTIONS
America's Test Kitchen writes: We prefer whole milk in this recipe, but low-fat milk can be used. The dough will be quite soft and wet; dust your work surface and your hands liberally with flour. For a tall, even rise, use a sharp-edged biscuit cutter and push straight down; do not twist the cutter. These scones are best served fresh, but leftover scones may be stored in the freezer and reheated in a 300-degree oven for 15 minutes before serving. Serve these scones with jam as well as salted butter or clotted cream.
Adjust oven rack to upper-middle position and heat oven to 500 degrees. Line rimmed baking sheet with parchment paper. Pulse flour, sugar, baking powder, and salt in food processor until combined, about 5 pulses. Add butter and pulse until fully incorporated and mixture looks like very fine crumbs with no visible butter, about 20 pulses. Transfer mixture to large bowl and stir in currants.


.

Whisk milk and eggs together in second bowl. Set aside 2 tablespoons milk mixture. Add remaining milk mixture to flour mixture and, using rubber spatula, fold together until almost no dry bits of flour remain.


.

Transfer dough to well-floured counter and gather into ball. With floured hands, knead until surface is smooth and free of cracks, 25 to 30 times. Press gently to form disk. Using floured rolling pin, roll disk into 9-inch round, about 1 inch thick. Using floured 2 1/2-inch round cutter, stamp out 8 rounds, re-coating cutter with flour if it begins to stick. Arrange scones on prepared sheet. Gather dough scraps, form into ball, and knead gently until surface is smooth. Roll dough to 1-inch thickness and stamp out 4 rounds. Discard remaining dough.


.

Brush tops of scones with reserved milk mixture. Reduce oven temperature to 425 degrees and bake scones until risen and golden brown, 10 to 12 minutes, rotating sheet halfway through baking. Transfer scones to wire rack and let cool for at least 10 minutes. Serve scones warm or at room temperature.
True Confessions:
As you've no-doubt realized from the photos, these scones don't have currants in them. Tragically, the currents I purchased were spoiled. It was too late to buy new. So I chopped up some dried cranberries (Craisins) and added them instead. They were delicious, but I can't wait to try these again with the currants!
We ate these warm from the oven, dripping with butter and jam. I highly recommend it.
Look how pretty they are on my fancy dish! Another true confession. I love excuses to use this pretty dish.
And having my Milly home is the best of excuses! The 18th months flew by, and she's grown up in so many ways. She's more confident and caring. She's more careful and considerate. And her smile still lights up a room.
I can hardly wait to snuggle up with her and watch in anticipation as Ann reads Captain Wentworth's hastily scribbled letter.
"You pierce my soul!"
Sigh. . . I think I may need another scone.
---
Don't miss a single recipe! Sign up for our newsletter today.