If social isolation has you feeling a bit uninspired this month, I hope you'll find a creative spark here to get you making, writing, posting, painting, or photographing again in April!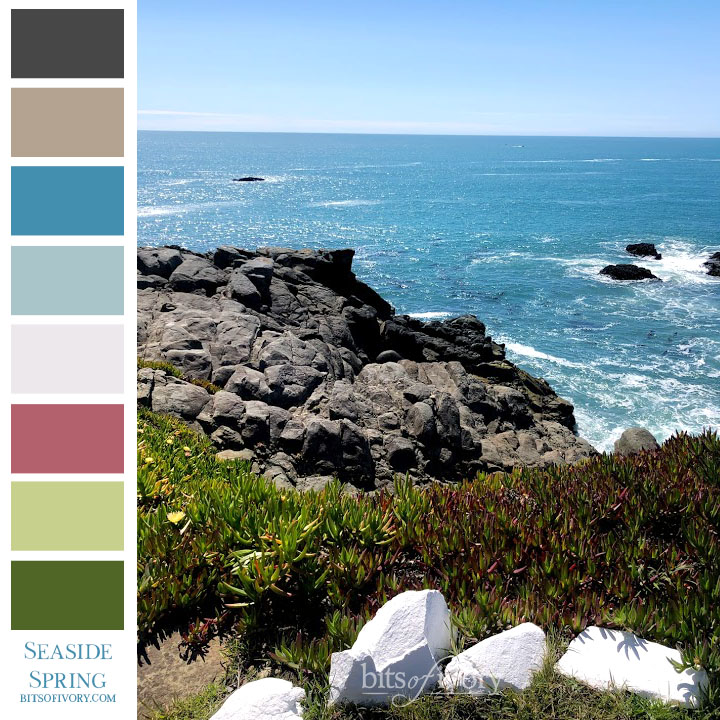 Colors for April's Creative Inspiration: Seaside Spring
April
Rocky Shore: Hex FEFDFF
Pathway: Hex B4A391
Calm Sea: Hex 438FAF
Wading: Hex A9C5C9
White Stone: Hex EDE8EC
Leafy Pink: Hex B3616D
Seaside Green: Hex C7D08D
Growing: Hex 506626
Spring-Inspired Writing or Drawing Prompts
Whether you're writing a book, a journal, or a social media post, here are a few words and prompts to get the ideas flowing! Looking for drawing or lettering prompts? Explore these prompts for ideas when you're feeling stuck!
Laughter
Rain
Grow
Mist
Learn
Solitude
Hope
Peace
Color
Rainbow
Sunshine
Umbrella
Galoshes
Puddles
Buds
Muddy
Isolation
Distance
Connection
Music
Making
Family Time
Cabin Fever
Home
Explore
Heal
Beginnings
Family
Leaves
Seaside
---
I'll be drawing from these prompts and using the April palette often in my projects this month, so follow along on my @happythoughtindeed channel to see them in action.
And don't forget to tag me in your social media posts if you use these colors or prompts for creative inspiration in your own projects!