The walk to school this morning was beautiful and foggy – I love walking in the fog!  The chilly air and crunchy leaves underfoot are some of my favorite things about Autumn, and I'm enjoying every minute of it.  Another of my favorite things about the Fall is the approach of Thanksgiving and Christmas, and the opportunity to think of some of my favorite people and plan little gifts to show my appreciation and affection.  I've never been one of the people who rebelled against gift-giving at Christmas.  I don't think gifts are a sign that the holiday has become too commercial.  I love the opportunity that the season gives to reconnect with people we love and celebrate our relationships in a tangible way.
Whenever possible I like to make the gifts I give.  I think handcrafted gifts are the best.  Well, handcrafted gifts and books.  Books are always great gifts too.  But this isn't about books. 🙂  For my very craftsy friends and family I like giving tools and materials to create with.  The gift of creative possibilities is one of the most thoughtful things I can think of, and can range from very inexpensive to luxurious depending on your budget.
Over the next two weeks or so I'll be sharing a few of my very favorite things, essentials and "nice-to-haves" that would make perfect little gifts.  I hope they'll help inspire your own gift lists, whether one of them is just the thing you've been needing for a favorite person – or just gets you thinking in a new direction!  Perhaps when a special someone is begging you for hints of what you might enjoy, a link to this blog will make it easier for them to shop as well.
Today's list is just a few of my very favorite little things, things that would be great for friends, or as stocking stuffers, or even as a tie-on to a package!  You could even bundle together two or three for a creative little gift basket.  These are generally relatively inexpensive – but the main qualification for this list is that they're small in size.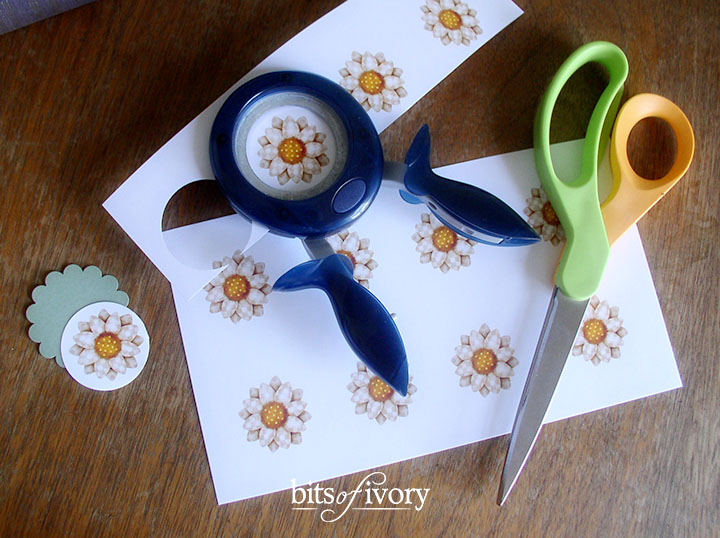 1.  Scissors
Scissors are essential in paper crafting and card making.  Good paper scissors can make all of the difference, and they're always going missing.  I don't know anyone who couldn't use another pair of scissors at any moment in time.  Full-sized scissors are essential, but what many crafters really need are a quality pair of detail scissors.  These scissors aren't just smaller – the sharp blades and pointed tips allow for very detailed cutting and trimming.  You don't have to buy the most expensive scissors out there – but don't skimp either.  My most useless scissors remain a store brand set that I purchased from a craft chain a few years ago.  My son's school safety scissors cut better.  I've always been happy with the Fiskars brand scissors of all sizes – and love my little CutterBee detail scissors.
2. Folding Tool
Traditionally made of bone, many folding tools are now made of plastic and once your favorite crafter or card maker has one they will wonder how on earth they lived without it.  Of course it makes beautifully crisp folds, and the tip is fantastic for scoring, but these tools are also perfect for burnishing, transferring rub-ons and applying pressure to activate adhesives.  Once again, the very, very cheap one that I purchased leaves a cream-colored plastic residue behind.  Ick.  They aren't that expensive to begin with, under $10.00 most of the time, so pay the extra dollar or two (or at least check the quality) and you won't be sorry.
3.  Ink
Yeah, you knew it was coming.  I love ink.  Love, love, love.  So my essentials list would be woefully incomplete if I didn't include it.  Most stampers have favorite brands of ink for their rubber stamping, but the ink I'm including on this list is distressing ink.  The consistency is different, making it easy to blend.  It's great for all kinds of distressing techniques.  Very clever card artists also use the stamp pads for watercolor techniques on their stamped images.  Ranger are my very favorite distress inks and they come in a very wide range of colors.  My very favorites are Tea Dye, Walnut Ink, and Tattered Rose, which I use almost constantly on my projects.  I'm always adding more colors to my collection though, because they are so versatile and really add such depth and character to projects.
4. Adhesives
Like inks, every crafter has a favorite adhesive.  Some adore their tape runners, some love glue sticks.  I love double-sided tape, rubber cement, and glue dots.  While the first two are pretty straight forward, glue dots come in different sizes and thicknesses and can do things that the other adhesives simply cannot – like attaching buttons and metal pieces.  Thicker glue dots are fantastic for 3-D decoupage projects in place of foam tape.  Because adhesives are consumed so quickly in percrafting projects, they're always a great gift.
5. Punches
I have all kinds of punches, some that I use over and over again.  I love the Fiskars squeeze punches that allow you to easily see exactly what you're punching.  The basic shapes such as circles and scalloped squares are used the most in my projects, in addition to tag shapes.  The essential punch tool, in my opinion, is the Crop-A-Dile, which punches two different sized holes, and also sets eyelets and snaps.  The strong punch can punch through several layers of paper, and even chipboard and leather.  It's a bit more expensive than the other items on this favorite things list, but so versatile and handy that it's worth the investment.